event calendar
BAMS Monthly Meeting
Nhu Nguyen: Species Identity Crisis in the Genus Suillus
UC Berkeley, 338 Koshland Hall
Wednesday, May 11, 2016 | 7:30 - 9:30 pm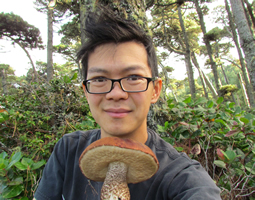 Dr. Nhu Nguyen presents: Species identity crisis in the genus Suillus: why many Californian species slip from our identification.
Mushrooms in the genus Suillus are often hard to identify because of the lack of distinct morphological characters, and when present, these characters fade away with age and environmental conditions such as rain. DNA sequencing of a large set of specimens, as well as type specimens help us understand why certain species are so difficult to tell apart. I will talk about why it's difficult to identify Suillus, the species that we may encounter in western North America, particularly in California, why certain of these species look so similar to each other and how certain names might change in the future.
Nhu Nguyen earned his BS in Biological Sciences at Lousiana State University (summa cum laude) in 2005, and came to UC Berkeley to work on his PhD under Dr. Tom Bruns, where he earned his PhD in 2013. He worked in the lab of Peter Kennedy at the University of Minnesota in 2014-2015.
Doors open at 7:30. Meeting starts promptly at 8:00.