event calendar
BAMS General Meeting
Dylan Smith: Effects of Induced Climate Warming on Soil Fungi in Temperate and Boreal Forests
UC Berkeley, 338 Koshland Hall
Thursday, November 21, 2013 | 7:30 — 9:30 pm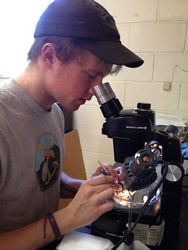 Dylan Smith, technician in the Peay Lab at Stanford University, will talk about the effects of a climate change experiment on the microbial dynamics in the temperate-boreal forest ecotone. Dylan will present results regarding the effects above- and below-ground induced warming on the diversity and community composition of soil fungi. The project aims to answer questions such as: How do fungal communities respond to soil warming? Is there a direct effect of warming, or do fungi respond primarily to shifts in plant composition? Are certain lineages or lifestyles (e.g. ectomycorrhizal, saprotrophic) of fungi more or less sensitive to soil warming? Dylan will discuss preliminary results and how they can help us to answer these questions, as well as inform our knowledge about climate change and microbes in general.
Dylan is involved with several projects in the Peay Lab involving the characterization of fungal diversity across the continent, investigating the link between compositional and functional diversity within fungi, developing new molecular and bioinformatics tools to study the composition of complex fungal communities, as well as investigating the effects of climate change on fungi. He received his BA from Lewis & Clark College in 2011, where he worked on ectomycorrhizal species interactions with Dr. Peter Kennedy. Dylan also enjoys hiking and working on old motorcycles.
Sycamore Grove Mushroom Foray
Sunday, December 8, 2013 | 1:00 – 4:00 pm
Sycamore Grove/Veterans Park | Livermore, California
Join ranger Amy Wolitzer and BAMS' Debbie Veiss for the annual Mushroom Madness event at 1:00 pm. Meet at Sycamore Grove/Veterans Park 5211 Arroyo Rd, Livermore, CA 94550. Follow this link to see a report on our 2011 event. For more information, contact Debbie Viess at 510.430.9353.
9th Annual Point Reyes Fungus Fair
Bear Valley Visitor Center | January 4-5, 2014
Please join us for mushroom collecting on Saturday, January 4. Meet at 10:00 am in the Bear Valley Visitor Center parking lot. Bring your collections to the Red Barn at 1:00 pm or later. For more information on what to bring, follow this link... The fair will be held on Sunday, with lectures, displays and mushroom tables, starting at 10:00 am at the Visitor Center. For more information, contact David Rust by email or call 510.468.5014.
Additional information
can be found here...
and
at the PRNS website
.
All California Club Foray
January 24-26, 2014 | Albion, California
The Sixth Biannual All California Club Foray (ACCF) will be held in January 2014. Chief mycologist, Dr. Terry Henkel, and two of his grad students will assist with taxonomy. This event includes catered meals, comfy lodging, and mushroom hunts in the bountiful Jackson Demonstration State Forest near Mendocino. This foray is open to any current member of a California mushroom club and NAMA members. Registration is now open. To learn more about this foray and to register, follow this link...