event calendar
East Bay Regional Parks Botanic Garden Talk and Walk
Visitor Center | Sunday, December 11, 2016, 10am -12:30 pm
Enjoy a beautifully illustrated, fun, and fact-filled talk on the many local species of mushrooms that we commonly encounter in our lawns, gardens, and woods. Learn how fungi are intricately and essentially connected to most if not all plants, then enjoy a hands-on walk of fungal discovery in the EBRPD Botanic Garden. Cost: $25 members/ $30 nonmembers. For more information and to register, follow this link.
12th Annual Point Reyes National Seashore Fungus Fair
January 7, 2017 - Collecting Foray | Red Barn, Bear Valley
Join us for a collecting foray 10:00 am to 1:00 pm. We'll meet in front of the Bear Valley Visitor Center parking lot to organize. Be sure to bring a basket or bag, water, compass, knife, pencil/pen, and a lunch.
This is a collecting event for the fair, not a guided foray. Be prepared to learn, and be prepared to participate!
Bring collections to the Red Barn starting at 1:00 pm for identification. No registration required; just show up before 10:00 am. Contact David Rust 510.468.5014 for more details.
January 8, 2017 - Fungus Fair | Bear Valley Visitor Center
Join us for the 12th annual Point Reyes National Seashore Fungus Fair. Attend free lectures in the Bear Valley Visitor Center Auditorium. Learn about fungi and their role in the many Point Reyes habitats, from grasslands to redwoods. See the remarkable colors and shapes of wild mushrooms collected in the park. Be sure to see the mushroom display tables in back of the Visitor Center.
Sponsored by Point Reyes National Seashore and Bay Area Mycological Society! Contact David Rust 510.468.5014 for more details. Visit our event page to learn more.
BAMS Monthly Meeting
Michael Castellano: The Bay Area: cradle of truffle science in North America
UC Berkeley, 338 Koshland Hall
Thursday, January 12, 2017| 7:30 - 9:30 pm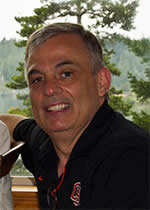 Dr. Castellano was born in Brooklyn and grew up in the Los Angeles area and on Long Island.  He received an A.A.S. in Forestry from Paul Smith's College, a B.S. in Forest Management from Oregon State University, an M.S. in Tree Physiology from OSU, and a Ph.D. in Forest Ecology from OSU.
He began his professional career in 1979 as a technician with the research office of Weyerhaeuser Co. in Columbus, Mississippi. He then began working for the USDA Forest Service's Pacific Northwest Research Station in 1980. His current position is of Research Forester assigned to the USDA's Northern Research Station but is still stationed in Corvallis, Oregon, and is also a courtesy Professor of Forest Science at OSU.  
Castellno has done extensive research on the aspects of ectomycorrhizae in forest ecosystems. For the last 20 years, his research has focused on increasing our understanding of the natural history and identification of fleshy macro-fungi (particularly truffles) in forested ecosystems. This directly relates to how ecosystems can be maintained and restored and involves aspects of the ecology, biology and functional diversity of forest fungi. His current main interests and areas of expertise include the biodiversity of macrofungi (particularly truffle species) in forests, and managing rare, sensitive and endemic macrofungi.
Doors open at 7:30. Meeting starts promptly at 8:00.
Sycamore Grove Mushroom Madness
Sunday, January 15, 2017 | 1:00 – 4:00 pm
Sycamore Grove/Veterans Park | Livermore, California
Join Ranger Amy Wolitzer and BAMS' Debbie Veiss for the annual mushroom hunt at 1:00 pm. Meet at Sycamore Grove/Veterans Park 5035 Arroyo Rd, Livermore, CA 94550. We always find lots of interesting mushrooms at Sycamore Grove. After the hunt, we'll regroup at the picnic area to view and discuss the finds of the day. Please use this map to find us. We are meeting at the ranger office located up the road that goes to the Veterans Hospital. For more information, contact Debbie Viess at 510.430.9353.