event calendar
BAMS Monthly Meeting
Debbie Viess: Amanita Toxins - Deep Analysis and Mythbusting
UC Berkeley, 338 Koshland Hall
Thursday, October 19, 2017| 7:30 - 9:30 pm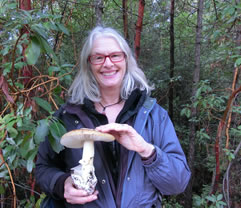 BAMS Co-Founder Debbie Viess aka Amanitarita will talk about the broad array of toxins found in the genus Amanita. You will learn how to recognize the various sections of the Genus Amanita, which sections may contain toxins and which never do, what those toxins are and how they affect us after ingestion. After viewing this talk, and with a bit of field practice, you should be able to recognize almost any amanita to section by their unifying characteristics. Some commonly held amanita myths will get busted, and our current understanding of various amanita toxins, their effects upon the human body and their steadily improving treatments will all be discussed.
Here in the West, we have a number of excellent edible amanita species. Learn about how to begin to safely tell them apart from their toxic cousins. The lives you save may be your own or those of your loved ones!
When eating any wild mushroom and especially in the case of eating amanitas, knowledge and caution and long experience is your friend!
Doors open at 7:30. Meeting starts promptly at 8:00.
BAMS Monthly Meeting
Trent Pearce: Common Fungi of the East Bay
UC Berkeley, 338 Koshland Hall
Thursday, November 16, 2017| 7:30 - 9:30 pm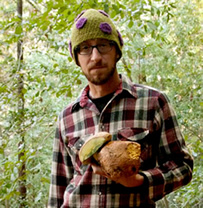 Trent Pearce presents "Common Fungi of the East Bay". Take a look at a field naturalist's approach to documenting our common fungi and assembling a field guide for beginners. We'll visit our most frequently observed species, touch on field documentation, and discuss the assembling of a simple regional mycoflora.
Trent Pearce is an interpretive naturalist with the East Bay Regional Park District, stationed at Tilden Nature Area in Berkeley. He came to California in 2006 after completing a degree in Foresty and Recreation from the University of Tennessee, where he also led guided backpacking and rock-climbing trips for students. Trent has organized A mycologist at heart, he can typically be found crawling through poison oak at your favorite local park.

13th Annual Point Reyes National Seashore Fungus Fair
December 9, 2017 - Collecting Foray | Red Barn, Bear Valley
Join us for a collecting foray 10:00 am to 1:00 pm. We'll meet in front of the Bear Valley Visitor Center parking lot to organize. Be sure to bring a basket or bag, water, compass, knife, pencil/pen, and a lunch.
This is a collecting event for the fair, not a guided foray. Be prepared to learn, and be prepared to participate!
Bring collections to the Red Barn starting at 1:00 pm for identification. No registration required; just show up before 10:00 am. Contact David Rust 510.468.5014 for more details.
December 10, 2017 - Fungus Fair | Bear Valley Visitor Center
10:00 am — 4:00 pm
Join us for the 13th annual Point Reyes National Seashore Fungus Fair. Attend free lectures in the Bear Valley Visitor Center Auditorium. Learn about fungi and their role in the many Point Reyes habitats, from grasslands to redwoods. See the remarkable colors and shapes of wild mushrooms collected in the park. Be sure to see the mushroom display tables in back of the Visitor Center.
Sponsored by Point Reyes National Seashore and Bay Area Mycological Society! Contact David Rust 510.468.5014 for more details. Visit our event page to learn more.
All California Club Foray 2018
Friday-Sunday, January 19-21, Albion, CA
Registration is open for our 8th biannual ACCF, near Mendocino, CA. Open to NAMA and CA club members! This is a foray centered on taxonomy and identification - microscopes will be available. January is normally the heart of California's coastal mushroom season, and we'll be venturing in the forest near Mendocino. Our Chief Mycologist for this foray is Dr. Michael Beug, Professor Emeritus from Evergreen State University, current Chair of the NAMA Toxicology committee, and lead author of Ascomycete Fungi of North America.
Cost is $200 per person and includes two nights lodging and all meals from Friday evening through Sunday breakfast. Every meal is delicious and locally sourced, thanks to the efforts of local Chef and Caterer Deb Dawson. This is an intimate foray, limited to only 60 people, so you can be assured of plenty of time for identification and social interactions! The Albion Field Station has motel quality lodgings, each with a private bath. Early sign-ups can be assured of a private room, double occupancy.
For more information and registration: http://bayareamushrooms.org/forays/accf_2018.html