event calendar
BAMS General Meeting
Dr. Peter Kerr: What's Bugging Fungi?
UC Berkeley, 338 Koshland Hall
Thursday, October 23, 2014| 7:30 — 9:30 pm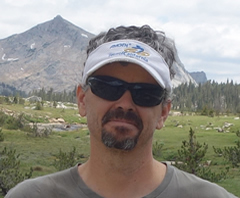 Peter Kerr is a fourth generation Californian who grew up in Ventura, in Southern California, with a fondness for nature and environmental conservation. Peter attained his bachelor's in Biology at the University of California at Santa Cruz, spending a full year in college studying Biology in Central America, at the Universidad de Costa Rica. After graduation, Peter returned to the Neotropics and lived in Ecuador for 13 months, where he worked as a naturalist guide and collected insects at Sacha Lodge in the Amazon Basin.
Peter returned to California and conducted field work for the local University of California Cooperative Extension office, but longed for more tropical adventures. Inspired by Victorian biologists such as Henry Walter Bates and Sir Alfred Wallace, who funded collecting trips through institutional channels, With financial support from a variety of prominent natural history museums, including the Los Angeles County Museum of Natural History, the Canadian National Collection, and the American Hymenoptera Institution, Peter returned to Ecuador in 1996 as a freelance insect collector, where he spent 6 months traversing the country with traps in hand, resulting in a bounty of new material for systematic entomology research.
Peter attended graduate school at the University of Maryland, receiving his Ph.D. in Systematic Entomology in 2003. He then worked for a year as a postdoc at the University of California at Davis and since 2004, has been employed by the State of California, Department of Food and Agriculture, Plant Pest Diagnostics Branch, in Sacramento. Peter is one of 10 insect systematists in the lab whose job is to curate the State Collection of Arthropods and identify suspect insect pests of agriculture, sent in from various state agencies and state border stations.
Since 2007, Peter has focused his research on fungus gnats, a very diverse group of flies found around the world in association with mushrooms. In the intervening years, based on his own collecting, Peter has published descriptions of 16 new species of Californian fungus gnats, including one new genus.
Doors open at 7:30. Meeting starts promptly at 8:00.
BAMS Salt Point Foray
Saturday, November 1, 2014
Salt Point State Park
Join BAMS at Salt Point State Park for a mushroom hunt at one of the few California parks open to mushroom collecting. Camp/potluck dinner Saturday night at Gerstle Cove Campground. Participation is free (unless you're camping), but you must be a BAMS member. Meet at 10:00 am at the Woodside Campground Day Use Parking Lot. For more information, contact Debbie Viess by email or phone 510.430.9353.
BAMS General Meeting
Dr. Michael Beug: For the Love of Ascomycetes
UC Berkeley, 338 Koshland Hall
Thursday, November 20, 2014| 7:30 — 9:30 pm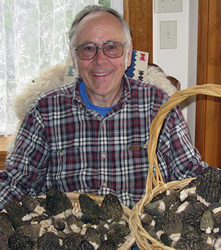 In this talk, Dr. Beug will illustrate the spectacular and diverse world of Ascomycete fungi in the Pacific Northwest. You will learn about edibles from morels to truffles, fungal habitats and fungal lifestyles. He will describe what Ascomycetes are. You will learn about unusual fungi, some with medicinal applications, some with industrial uses, some that cause plant diseases, some that cure plant diseases, and some that control insects.
He describe how he came to write the book Ascomycete Fungi of North America with coauthors Alan and Arleen Bessette, the first color–illustrated book to cover North American Ascomycetes.
Beug is a member of the North American Mycological Association (NAMA) where he served for six years as Editor of the journal
McIlvainea
. He currently is Chair of the Toxicology Committee, Chair of the Editorial Committee, member of the literature committee and member of the Education Committee. Michael was winner of the 2006 NAMA Award for Contributions to Amateur Mycology. He has prepared over two dozen PowerPoint presentations about mushrooms for the NAMA Education Committee (available from NAMA as a 2-DVD set).
Michael is currently Vice President and past President of The Pacific Northwest Key Council, a group dedicated to writing macroscopic keys for the identification of fungi. His specialties are the genus Ramaria, all toxic and hallucinogenic mushrooms, and Ascomycetes. He is also doing research on oak-associated fungi of the Columbia River Gorge, especially Cortinarius species. He regularly writes about mushrooms in McIlvainea, The Mycophile, Fungi Magazine, and Mushroom: The Journal of Wild Mushrooming. He is coauthor of MatchMaker, a free mushroom identification program covering 4,092 taxa with over 5,000 images of 1,984 illustrated taxa.
Doors open at 7:30. Meeting starts promptly at 8:00.
10th Annual Point Reyes National Seashore Fungus Fair
January 3, 2015 - Collecting Foray | Red Barn, Bear Valley
Join us for a collecting foray 10:00 am to 1:00 pm. We'll meet in front of the Visitor Center parking lot to organize. Bring collections to the Red Barn starting at 1:00 pm for identification. Contact David Rust 510.430.9353 for more details.
January 4, 2015 - Fungus Fair | Bear Valley Visitor Center
Mushrooms will be on display from 10:00 am to 4:00 pm at the Bear Valley Visitor Center. Visitors are invited to attend free lectures in the auditorium.
Sycamore Grove Mushroom Foray
Sunday, February 1, 2015 | 1:00 – 4:00 pm
Sycamore Grove/Veterans Park | Livermore, California
Join ranger Amy Wolitzer and BAMS' Debbie Veiss for the annual Mushroom Madness event at 1:00 pm. Meet at Sycamore Grove/Veterans Park 5211 Arroyo Rd, Livermore, CA 94550. Follow this link to see a report on our 2011 event. For more information, contact Debbie Viess at 510.430.9353.