event calendar
BAMS General Meeting
Dr. Michael Beug: For the Love of Ascomycetes
UC Berkeley, 338 Koshland Hall
Thursday, November 20, 2014| 7:30 — 9:30 pm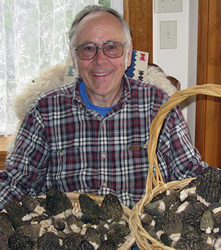 In this talk, Dr. Beug will illustrate the spectacular and diverse world of Ascomycete fungi in the Pacific Northwest. You will learn about edibles from morels to truffles, fungal habitats and fungal lifestyles. He will describe what Ascomycetes are. You will learn about unusual fungi, some with medicinal applications, some with industrial uses, some that cause plant diseases, some that cure plant diseases, and some that control insects.
He describe how he came to write the book Ascomycete Fungi of North America with coauthors Alan and Arleen Bessette, the first color–illustrated book to cover North American Ascomycetes.
Beug is a member of the North American Mycological Association (NAMA) where he served for six years as Editor of the journal
McIlvainea
. He currently is Chair of the Toxicology Committee, Chair of the Editorial Committee, member of the literature committee and member of the Education Committee. Michael was winner of the 2006 NAMA Award for Contributions to Amateur Mycology. He has prepared over two dozen PowerPoint presentations about mushrooms for the NAMA Education Committee (available from NAMA as a 2-DVD set).
Michael is currently Vice President and past President of The Pacific Northwest Key Council, a group dedicated to writing macroscopic keys for the identification of fungi. His specialties are the genus Ramaria, all toxic and hallucinogenic mushrooms, and Ascomycetes. He is also doing research on oak-associated fungi of the Columbia River Gorge, especially Cortinarius species. He regularly writes about mushrooms in McIlvainea, The Mycophile, Fungi Magazine, and Mushroom: The Journal of Wild Mushrooming. He is coauthor of MatchMaker, a free mushroom identification program covering 4,092 taxa with over 5,000 images of 1,984 illustrated taxa.
Doors open at 7:30. Meeting starts promptly at 8:00.
10th Annual Point Reyes National Seashore Fungus Fair
January 3, 2015 - Collecting Foray | Red Barn, Bear Valley
Join us for a collecting foray 10:00 am to 1:00 pm. We'll meet in front of the Visitor Center parking lot to organize. Bring collections to the Red Barn starting at 1:00 pm for identification. Contact David Rust 510.430.9353 for more details.
January 4, 2015 - Fungus Fair | Bear Valley Visitor Center
Mushrooms will be on display from 10:00 am to 4:00 pm at the Bear Valley Visitor Center. Visitors are invited to attend free lectures in the auditorium.
Sycamore Grove Mushroom Foray
Sunday, February 1, 2015 | 1:00 – 4:00 pm
Sycamore Grove/Veterans Park | Livermore, California
Join ranger Amy Wolitzer and BAMS' Debbie Veiss for the annual Mushroom Madness event at 1:00 pm. Meet at Sycamore Grove/Veterans Park 5211 Arroyo Rd, Livermore, CA 94550. Follow this link to see a report on our 2011 event. For more information, contact Debbie Viess at 510.430.9353.