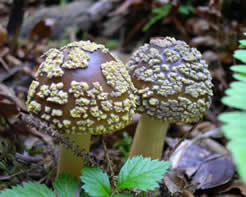 We've posted a new Mushroom of the Month, a page by Debbie Viess on Amanita augusta. To learn more, follow this link...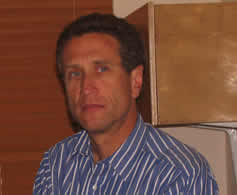 Dr. Todd Mitchell provides an update on the study to find a treatment for amatoxin poisoning. Doors open at 7:30. Meeting starts at 8:00. To see more about this event, follow this link...

Fun Times at the 41st FFSC Fungus Fair
We had a blast at the Fungus Federation of Santa Cruz fair this year. Debbie sat at the ID table and spoke with visitors about mushrooms they had brought in. David circulated around the mushroom display tables and answered questions. Debbie gave a talk "Amanitarita's Freaky and Fabulous Fungi". David gave a talk "Introduction to Wild and Edible Mushrooms", in which he spent a lot of time talking about poisonings, allergic reactions, and some edible fungi. This is the best mushroom fair on the West Coast! To see some photos of the fair by Yevgeny Nyden, click here.
Table of mushrooms in the Kid's Activity Room at
the fair. Yes, there were Death Caps on the table
for kids (and their parents) to see and learn about.

Part of the identification team at the FFSC fair
Alan Rockefeller, Debbie Viess, Thea Chesney,
and Erin Page Blanchard.
10th Annual Point Reyes Fungus Fair
For the 2014-2015 winter season, the Bay Area Mycological Society's 10th Annual Point Reyes National Seashore Fungus Fair was held on Sunday, January 4, 2015. Despite dry weather just before the fair, volunteers found approximately 200 species of fungi on Saturday which were then displayed at the Bear Valley Visitor Center on Sunday. The program included public talks on post-fire fungal ecology, mushroom dyes, and fun and interesting fungi. Since the forays began in 2005, the program has documented over 550 park species records, and several species new to science. This year, four new species: Tricholoma focale, Pleurotus dryinus, Pholiota aurivella, and Rhodocybe aureicystidiata were found in the park for the first time.
| | |
| --- | --- |
| BAMS commissioned this sculpture of Amanita phalloides for our display at the fair. Thank you, Kim Ford, for doing such a great job. It's fabulous. Check out Kim's work at: http://www.kimfordwork.com/. | BAMS Co-Founder Debbie Viess shows some of the mushrooms on display to fair visitors. |
Further Reflections on Amanita muscaria as an Edible Species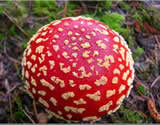 Here is a thoughtful response to the current push to eat Amanita muscaria, along with a history of its treatment in field guides, its toxins, and warnings about edibility.
Click here to view the full pdf article on Mushroom, The Journal of Wild Mushrooming, written by Debbie Viess. Look for Further Reflections on Amanita muscaria as an Edible Species.

A Partnership for Science
The North American Mycoflora Project organizational meeting was held in New Haven, Connecticut, July 14-15, 2012. See 16 video presentations from the meeting. See the great group photo. Read more...
The Bay Area Mycological Society (BAMS), established in 2006, is dedicated to the art and science of mushrooms. We hold our meetings at UC Berkeley. We hold local and long distance forays, participate in the Yosemite National Park Fungal Survey, and organize the Point Reyes Fungus Fairs and All California Club Forays.
We are affiliated with the North American Mycological Association. We host a lively online discussion group. Our members range from beginners to professionals in the field. We believe that everyone wants to learn, and has ideas to share. Join us.
---
We are constantly experimenting with background image for this page and the photo gallery. This photo was taken at Salt Point State Park.