Point Reyes National Seashore
11th Annual Fungus Fair, Bear Valley Visitor Center
Sunday, January 3, 2016
10:00 am — 4:00 pm
Sponsored by the Bay Area Mycological Society and Point Reyes National Seashore
Join us for the 11th annual Point Reyes National Seashore Fungus Fair! Learn about the fungi of the Point Reyes National Seashore. See remarkable colors and shapes of wild mushrooms that were collected right in the park. Attend lectures, and learn about edible and poisonous mushrooms in the Bear Valley Visitor Center Auditorium.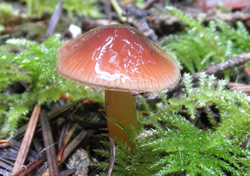 Debbie Viess presents a whirlwind tour of interesting fungi from around the country. David Rust will list some of the "do's" and many of the "don'ts" of edible mushrooms.
Download the 11th Annual Fungus Fair Flyer (PDF)
Amateur mycologists will be on hand to talk about mushrooms, and their role in the environment. Learn more about the Bay Area Mycological Society activities, scientific and educational mission.
For more information about this event, contact David Rust by email or by phone 510.468.5014. This event is free to the public. For directions and a map, visit the park's Directions page.