Joaquin Miller Park Foray
Sunday, February 27, 2011
We all felt the arctic blast this morning. Thankfully, the sun shone brightly in the Oakland Hills today for our foray at Joaquin Miller Park. More than a dozen attendees found lots of mushrooms. From Leratiomyces ceres to Amanita franchetii and beyond. Everybody had a great time!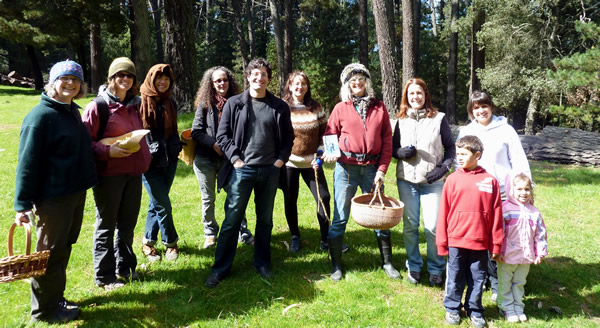 In a lull, we gathered for a group photo near the horse arena. © Photo by David Rust
Fungi both large and small were fruiting, from the beautiful, brick red Leratiomyces ceres to several fruitings of Amanita pantherina, Helvella lacunosa to Panaeolus sp., and that ever present and so rarely IDed to species, the little brown jobber, Tubaria. A couple of different, brightly colored waxy caps popped up their viscid heads: a small, pinking Hygrocybe psittacina and several collections of the bright yellow Hygrocybe flavescens.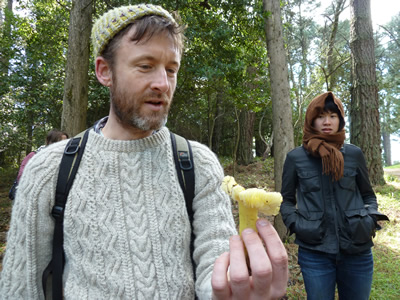 Andrew found several Hygrocybe flavescens in the pines. © Photo by David Rust
We found a patch of Amanita franchetii in fine fettle and several folks located different species of Inocybes. Two blewits were found, identifiable through both smell and color, altho they were a bit past their edibility expiration date, and even a couple of candy caps were brought in, stipes snapping and latex leaking. Things have been so bad lately that I was actually excited to see a Russula in fair condition.
Even the sometimes-scorned parchment fungi, which covered both downed and hanging logs, attracted the eyes of our sharp-eyed crowd as they were caught up in the excitement of the hunt. It was a good day to be alive and aware and coursing the woods, searching for wonders right here in the East Bay.