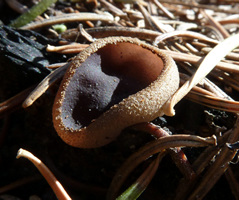 A nice example of an ascomycete in a burn zone. Photo by David Rust. To learn more and see a full size image, follow this link...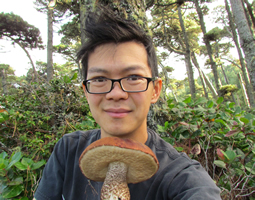 Nhu Nguyen is now a PhD! Having completed his studies in the Bruns Lab and his dissertation, titled, "Community Ecology of Bacteria Associated with the Digestive Structures of Insects, Ectomycorrhizal Plants, and Fungi."

North American Mycological Association Lowers Dues for 2013!
BAMS is affiliated with the North American Mycological Association, and that means you, our members, can join for the low low price of $24 per year. NAMA has over 80 affiliated clubs and publishes a bi-monthly newsletter, The Mycophile, and an online peer reviewed journal, McIlvainea. NAMA hosts an annual foray, where you can learn from professional mycologists, attend lectures, and meet other mycologists from all over the world. NAMA has an excellent website, http://namyco.org/, with a host of information about mushroom cultivation, educational programs, photography, mushroom poisonings, medicinal mushrooms, and the Registry of Mushrooms in Works of Art.
It's never been easier. You can pay NAMA dues online. Remember to mention that you're a member of the Bay Area Mycological Society. Learn more...
A Partnership for Science
The North American Mycoflora Project organizational meeting was held in New Haven, Connecticut, July 14-15, 2012. See 16 video presentations from the meeting. See the great group photo. Read more...
The Bay Area Mycological Society (BAMS), established in 2006, is dedicated to the art and science of mushrooms. We hold our meetings at UC Berkeley. We hold local and long distance forays, participate in the Yosemite National Park Fungal Survey, and organize the Point Reyes Fungus Fairs and All California Club Forays.
We are affiliated with the North American Mycological Association. We host a lively online discussion group. Our members range from beginners to professionals in the field. We believe that everyone wants to learn, and has ideas to share. Join us.
---
We are constantly experimenting with background image for this page and the photo gallery. This photo was taken in the deep forest on the Kenai Peninsula in Alaska.