Mushroom Foray Basics
What is a Mushroom Foray?
When people who love wild mushrooms say "foray," they're talking about organizing a group to go into the forest to look for fungi. The purpose of a foray can be to hunt for edibles, collect for scientific study, or look at the beauty and diversity of mushrooms. Forays can last from an hour or two, to a multi-day overnight trip. On overnight forays some of the plunder is typically cooked in delicious dishes for all to share.
Ron Bosia, Debbie Viess and Sandi Smith on morel foray.
© Photo by David Rust

Henry Young and Phil Carpenter discuss identifcation at Yuba Pass.
© Photo by Hugh Smith
Whether it's your first time in the woods, or if you're an experienced mushroom hunter, you need to bring along some basic tools and be prepared for the unexpected. Emergencies happen, and the better prepared you are, the better you can deal with them. Weather conditions can change quickly. You can become disoriented and hopelessly lost. You need to be aware of the natural hazards in the area where you are collecting mushrooms.
And What Should I Bring?
If you've been on a mushroom foray, you get the idea that everybody has a uniform look and gestalt. They wear the same gear and carry the same equipment because they've learned from each other how to stay warm and dry and collect mass quantities of mushrooms. Fads come and go, but people adjust to new ideas and equipment when they work better. It could just as easily be a grocery handbasket that you see everywhere in the woods, but Ghana baskets are the current "thing" to carry. When I considered purchasing a Ghana basket, I thought it wouldn't last very long. I've had the same one now for 8 years. Sometimes you'll find you need to be more discrete about collecting mushrooms. Reusable or paper grocery bags or even a day pack work in these situations.
The basics: Ghana basket, wax bags, knife, brush, compass, whistle. © Photos by David Rust
The object of a foray is to collect and carry delicate mushrooms in a way that you can bring them home in good condition. Basic mushroom equipment includes a basket, sturdy enough to keep your mushrooms from getting smashed and broken. Wax bags are carried to keep "collections" of different mushrooms separate and to help keep them clean. Wax paper or aluminum foil can be handy tools to protect mushrooms as well. Small collections can be stored safely in a plastic tackle box. Don't collect mushrooms in plastic bags – they will quickly rot and become a jumbled mess. In a pinch, a grocery bag works.
A small pocket knife can be used for cutting or cleaning mushrooms, and a small trowel can help extract the whole mushroom from its substrate. A natural bristle painter's brush will help you keep edibles clean for the trip home. Some people cut off ½ of the bristles to make the brush more stiff. A notebook, paper and pen(cil) are useful for taking notes on the mushrooms you collect.
Basket
Wax bags
Knife
Trowel
Small brush
Water
Mushroom forays can often take place in new places. Be sure to have good sturdy hiking boots and hiking socks. A hat can perform the double duty of protecting your head from the sun and unseen branches. Also in the basic equipment category is water. Water could be key to survival if you get lost.
Keeping Oriented
Doing your best to keep from getting lost and late is an important responsiblity for everyone on a foray. Before you head out the door, be sure you have some basic maps of the area you are going to, as well as directions to the foray. If you're going by yourself into the woods, let someone know your plans, so if you don't return on time, they can initiate a search.
Bring along a compass, GPS device, and a watch. Use your compass or GPS device, and take readings as you walk through the woods. Walkie talkies are cheap and handy in emergencies, but they only provide communication, not directions. The same problem applies to cell phones, which are often useless in the forest - don't rely on a cell phone where you have no signal. GPS devices need three satellites for an accurate reading - the deep forest can block them from working well.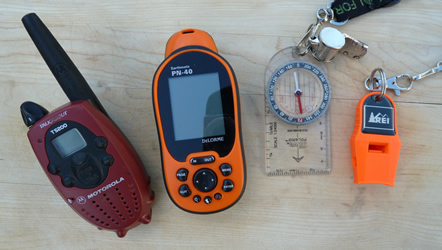 Walkie talkie, GPS, compass, whistle: keeping oriented in the forest is key.
© Photo by David Rust
The foray leader should have an accurate headcount at the foray beginning point. There is a set time to meet back at the parking lot, and if you miss the rendezvous, people will get worried and anxious about your well being. A buddy system helps keep people together. Be sure to let someone know if you leave early.
Maps
Compass or GPS device
Walkie Talkie
Watch
Whistle
Keeping oriented in the woods is hard when you are looking down for that next great mushroom without paying strict attention to the contours of the ground and the way back to your car. Generally, when people go in the woods together, they separate some distance so as not to cover the same ground. Either stay in visual or voice contact with someone in the group at all times.
An agreed to whistle signal system in a group helps people communicate both dangers and delights (I just found a hundred morels over here. There's lot's more, come on over!). The downside of whistles is that in rough terrain, the sound doesn't carry very far. The typical system (make sure you agree before you split up – signal systems vary regionally) is:
One blast: Anybody out there?
Two blasts: I heard you. Just keeping in touch.
Three blasts: I just broke something. HELP!
Four blasts: Time to go back to the car
| | |
| --- | --- |
| | |
| San Diego Mycological Society foray group © Photo by David Rust | Ken Gill at 2009 NAMA foray. © Photo by David Rust |
Clothing
Conditions can change quickly on a foray. If you are in a sheltered forest with a thick canopy, you may not notice the first raindrops or snowflakes. Here in California, the fog can roll in suddenly with a quick drop in temperature. In the mountains, dangerous storms can arrive with no notice. Carry a jacket or extra layer. Gore-Tex works best, and if you're going to be in driving rain, as we often are in the wet season, Gore-Tex rain pants work to keep your lower half dry as well, especially if you are kneeling down a lot to pick mushrooms and take photos. Dressing in layers also works well in California, but you knew that.
Hazards and Extras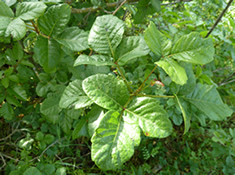 Toxicodendron diversilobum © Photo by David Rust
Being in the woods can present hazards that we don't normally encounter. It's your job to be aware of your surroundings and be ready to act when something happens. California forests have mountain lions, bears, snakes, wild pigs and the lesser dangers of ticks, mosquitoes. Deer, while very cute from afar, can injure you if surprised. Learn what poison oak (Toxicodendron diversilobum) looks like and how to avoid it. Note that the leaves turn red in the Fall, and the plants are just sticks in the Winter — you can still get oils at this stage. Several over the counter treatments are available. We've used Technu and it works. Take care to avoid re-contamination from your clothes and shoes. In the wet woods after a storm, trees can fall without warning.
You may get hungry after expending energy hiking for a long period. Carry some extra food. Sharing a chocolate bar is a good way to meet new people. People often gather at the end of a foray to look over their finds and make some identifications. It's helpful to have a field guide and hand lens. If you are collecting small, delicate mushrooms for further study, a plastic tackle box is a good way to protect them in the field. Taking pictures in the forest is a whole separate topic — collecting mushrooms and taking great photos is a difficult mix of tasks.
Food and snacks
Mushroom Field Guide
Hand lens or magnifying glass
Small tackle box
Flashlight and extra batteries
Camera and extra batteries
Walking stick
Mosquito repellant
Technu or other poison oak wash
First aid kit
Emergency contact numbers
Forays for Science and Stewardship
In the past five years, amateur mycologists have increasingly participated in cooperative scientific forays, such as the Point Reyes Mycoblitz, Big Chico Creek Ecological Reserve, and the fungal survey at Yosemite National Park to establish baseline species lists for the parks. BAMS supports these efforts though our scientific mission. Scientific surveys are also taking place in Colorado at Rocky Mountain National Park and in the form of All Taxa Biodiversity Inventories. The first major ATBI took place in the Great Smoky Mountains National Park in 1997.
Mushroom Forays are Fun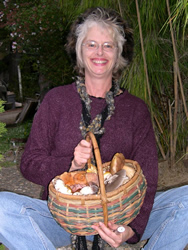 © Photo by Tish Moreno
Going on a mushroom walk with experienced people is a good way to learn. Make the most of your expeience by asking questions. There is usually lots of time to get to know the other people in the group. Also, in case you hadn't heard this about mycophiles, we love to eat — mushroom feasts in a campground are among the best gourmet meals you'll ever experience.
Mushroomers come from all walks of life. Join our next foray — there's lots to learn!